a con

tem

porary surreali

st pai

nter



III Muestra de Videoexploraciones Surrealistas.
Lima / Ministerio de Cultura Perú
15-16 January / Centro Cultural de la Escuela de Bellas Artes del Perú.
selezionati due miei video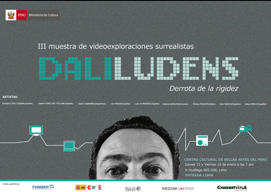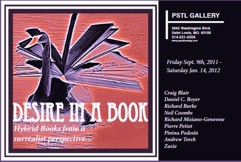 partecipo alla collettiva surrealista che si terrà in USA, ST. LOUIS , MISSURI

Hybrid Surrealist Book Show: PSTL Art Gallery St. Louis, Missouri USA
Exhibtion opens SEPTEMBER 9, 2011. Closes January 14, 2112..
(vai alla locandina)
continua il tour mondiale

*NEXT Friday (the 13th) the 'Desire in a book' Surrealist Hybrid Book Exhibition will open with a reception from 6pm to 8pm at the Thomas Jefferson Visual Arts Gallery (located inside Main) 4100 S. Lindbergh Blvd STL, MO 63127 USA
- This is the last American stop before the show travels to the U.K.





diversi miei lavori sono pubblicati su




cercami
su



<<>>
pinina podestà
sito in rete dal febbraio del 2001
realizzazione grafica e web master pinina podestà visione consigliata a 1024 x 768 pixel / schermo F11
tutte le opere su questo sito sono state create da pinina podestà, sono autorizzate sotto una licenza creative commons-licenze
"non c'è niente di bello e di eccellente, caro fratello. devi costruire la bellezza, la bontà e la giustizia con i tuoi sogni. dimmi, sai sognare?" (r.walser )